December 6, 2021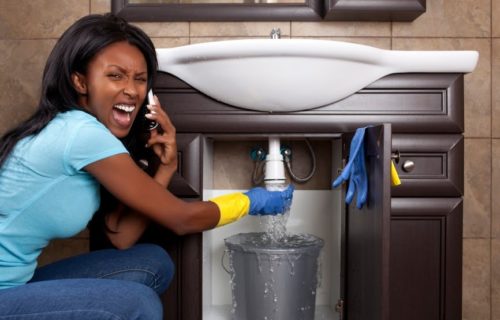 Many people just naturally look for the lowest-priced plumbing repairs. However, the cheapest is not always the best, and we don't want you to be overwhelmed by the consequences. The fact is that, in the long run, hiring an unlicensed plumber could cost you way more, and here are a few reasons why.
Understanding the Risks
When dealing with such an important task as plumbing, you need to understand the risks you face when hiring an unlicensed plumber as well as the numerous benefits to hiring a properly licensed plumber. As a licensed plumbing contractor at Beyer Plumbing in San Antonio, we understand the level of expertise required to maintain our licensed status. An unlicensed plumber could possibly cause a catastrophic accident, damage your plumbing system, or even pollute your water.
There are many trusted and licensed companies out there that will make your home's plumbing maintenance or repairs go as smoothly as possible. When looking for the right company, look at specific experience and licenses. And, before you even start, check with your local licensing office and ask what licenses are required for the work you plan to do. Once you find a plumber, you can go back to the licensing department and ask for a copy of their license, if possible.
Simply put, you should never use a plumber unless he or she provides you with the required credentials. Before hiring someone to do the plumbing work on your home, make sure you know everything about what an experienced plumber is supposed to know before you start.
Legal Fraud Protection
Licensed plumbers also offer you protection against fraud. These days, this is extremely important since fraudsters seem to be around every corner and in every industry. When you make a bad decision and proceed with signing a contract with a plumber who is unlicensed, it basically means nothing. You might just as well sign a crumpled cocktail napkin in a bar.
Why is that? Well, simply because that contract will not give you any legal protection whatsoever in the event that the plumber makes a devastating plumbing error. Also, he or she could just be trying to defraud you right from the start. An unlicensed plumber could easily end up taking your money and running for the hills. It certainly wouldn't be the first time that this has happened to an unsuspecting homeowner. A licensed plumber, on the other hand, will offer you a real contract that's legally binding.
No Permits
A plumber must be fully licensed and insured in order to obtain proper permits. Unlicensed plumbers can't obtain a permit because they are considered ineligible to handle multiple plumbing issues. Therefore, if you hire one, they can cause significant damage to your plumbing.
Unlike licensed plumbing contractors, unlicensed plumbers are probably not familiar with the local codes. They're also undoubtedly unfamiliar with the pipeline structure and specs in your area. Generally speaking, unauthorized plumbers are just plain unprofessional since only well-trained professional plumbers, like our professional team at Beyer Plumbing in San Antonio, can pass the license exam.
According to the licensing information provided by many city government websites, even with many years of experience, a plumber must pass a plumbing exam to prove that they know how to install, maintain, and repair "any plumbing system." Our highly experienced plumbers know how to prepare your piping system so that it can pass any city inspection.
Who Assumes the Liability?
You could be leaving yourself completely vulnerable to litigation if a plumber gets injured during your plumbing job. It could leave you open to prosecution as well.
On the other hand, if something happens to the plumber or your plumbing during the work, Beyer Plumbing will compensate you. Only licensed plumbers are insured by the authorities whereas an unlicensed plumber can actually sue you if something happens to them during your plumbing work.
By the way, homeowners insurance won't cover any damage caused by hiring unlicensed or uninsured plumbers. To avoid expensive repair and replacement costs, you should only order plumbing services from licensed plumbers. If the plumbing company you choose has insured its plumbers, you don't have to worry about accidents because the company's insurance covers the workers. Before hiring a plumber, make sure that they (or their company) have proper insurance.
If hiring an unlicensed plumbing contractor leaves you liable for damages and costly violations, the only way you can get your money back is to:
Go to small claims court
Hire an attorney
File a complaint with the State
Pursue a bond claim
Post reviews
Avoid the Risk
You can avoid further plumbing problems if you always hire a licensed plumber like Beyer Plumbing for your plumbing repairs, installation, and maintenance. We advise homeowners never to hire unskilled plumbers and not to try doing the plumbing repairs themselves either. Hiring a plumber without a certificate, license, or insurance can be risky, and a lower price just isn't worth putting your home at risk, let alone your life.
Don't make the mistake that many overly frugal homeowners have made so many times in the past. Always remember that it's wiser to hire a professional plumbing company to find the right plumber for your problems. You'll be glad that you did, not only now but in the future as well.
Beyer Plumbing Is Fully Licensed
Every one of our plumbers is not only experienced but also properly licensed and insured to work on the plumbing in your San Antonio home. When you are faced with a plumbing problem, you need to know that you are working with a reliable plumber whose high-quality work will give you peace of mind and save you money in the long run. You can rest assured that we have all of the necessary expertise and professional experience to handle all of your plumbing needs, whether they're residential or commercial.
In addition, our entire technical workforce has been TSBPE certified. That means that they've all undergone the top levels of training in the plumbing industry that are necessary for performing plumbing services in Texas. Our plumbers are dispatched from our state-of-the-art automated call center. They also drive GPS-equipped trucks that even further ensure an emergency response time that is second to none.
Contact Us Today
Before deciding to go for that low unlicensed plumber price, ask yourself whether you can actually afford to take the risk or not. If you can't, then hiring a licensed professional will be worth a few extra dollars because it could be saving you a lot of headaches and expenses.
Our plumbing services include everything from emergency plumbing repairs to hot water heaters, water softener systems, water quality systems, drain cleaning, tub and shower installations, and so much more. Contact us today to schedule an appointment that's convenient for you, or just fill out our online form. You can also call us if you would just like more information about our licensed and insured professional services.