Why Choose Beyer Plumbing
We are San Antonio's local source for all your plumbing needs whether you have a stopped up toilet, faucet leak, or need full installation services for pipes, drains, faucets, toilets, sinks, garbage disposals, and water heaters.
All of our work is guaranteed, so if you are looking for the best quality plumbing services to protect your home or business, we have you covered.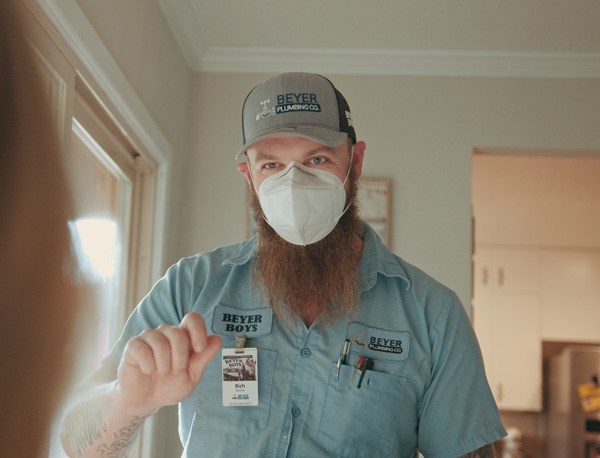 Professional Toilet Repair & Replacement
A clogged or broken toilet is never a good situation. Whether a clog is diagnosed in the fixture itself or further along the pipes, our professionals are trained to see the issue and offer quick solutions for repair. If you have a problem toilet that always seems to clog, run or leak, lack flushing power, or if you need any sort of toilet repair or replacement, Beyer Plumbing is available 24/7. We will quickly diagnose the problem and offer multiple solutions for any emergency. You will get an estimate immediately and once approved, we will start the work. Our work is guaranteed and we ensure your full satisfaction with our service. Whether you need residential plumbing repair or replacement services, get your toilet fixed right the first time with our expert plumbers.
Faucet Repair & Replacement in San Antonio
With the wear and tear of daily living, faucets can become brittle, the filters can become clogged with sediment, or some of the components can come loose. [company-name] is always happy to get your faucets repaired or replaced quickly so that you can get back to a smooth-working household environment. Our trained plumbers will find the issue, offer quick solutions for repair, and provide estimates on any job. If you have a problem sink or faucet that always seems to leak, or if you need any sort of faucet repair or replacement, our expert plumbers are available and at your service 24/7.
Expert Pipe Repair & Replacement
Beyer Plumbing is experienced at doing pipe repairs. We can diagnose if pipes need to be replaced or just patched for optimum performance and inspect the pipes inside and outside the house if necessary. Our certified plumbers can help identify the pipe damage and source of leaks while offering solutions to fix the issue. We are resourceful and helpful in explaining the findings and estimating the cost. At times, pipes may need repairs if they are in the slab, in the front yard, or in a bathroom. We are trained to find the leak and repair or replace the pipe quickly, and if needed, we can recommend other contractors to assist in fixing areas other than the plumbing components.
Garbage Disposal Installation & Repair
After years of extended use, garbage disposals are apt to fail. The professionals at Beyer Plumbing are experts at installing and repairing all makes and models of garbage disposals. We pride ourselves on being highly competent and quick to fix or install new disposals as needed. Plus, we guarantee our work and offer warranties on the equipment.
For more information on these and our other plumbing services in San Antonio, New Braunfels, Boerne, and the surrounding areas contact Beyer Plumbing today!