September 6, 2021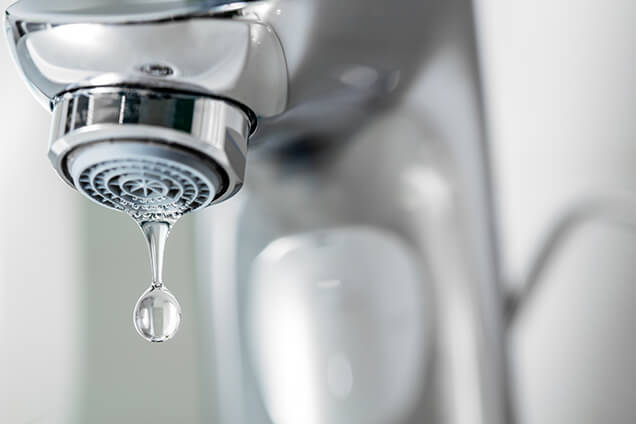 One of the most common plumbing issues is a dripping faucet, but because it's so commonplace, it can be easy to dismiss. A dripping faucet could be damaging parts of your plumbing and increasing your utility bills. Here's what you should know about leaky faucets and your plumbing system.
Understanding the Different Types of Faucets
To meet aesthetic, functionality, and design demands, manufacturers have come up with different faucet mechanisms. The most prevalent in homes are disc, ball, compression, and cartridge faucets.
Ball faucets are the most popular choice because they tend to complement modern interiors. They have a single handle that turns around a ball-shaped cap on top of the spout. The faucets consist of several intricate parts, including an O-ring and spring-operated rubber seals.
Since ball faucets have more components, they quickly succumb to corrosion. Ball faucets require more routine maintenance than disc or cartridge assemblies. They're also more prone to leaks.
Compression and cartridge faucets with a double handle are very similar looking. You can hardly distinguish them unless you check their interior mechanism. A cartridge system is smoother and more stable when you move the handle. It's also more reliable and durable, but it's more expensive than the compression faucet.
The disc faucet is a newer type of faucet often used in modern homes. It has a cylindrical body and a single-lever control. A chamber with ceramic discs regulates the flow of hot and cold water. Turning the lever increases or decreases the temperature of the water coming through the spout.
Disc faucets are considered to be the most reliable assemblies for water fixtures. They require little maintenance, but they're more expensive. Because of their complex design, you should seek professional assistance when the faucet is faulty.
Now that you know more about faucet types, let's take a look at some common causes of faucet leaks. If you experience any of the following issues, Beyer Plumbing can provide dependable plumbing repairs in San Antonio.
Loose or Defective O-rings
The O-ring is a rubber ring that sits at the bottom of the faucet. It stops water from dripping from the base of the spout. When it's defective, it will let water spill out.
If the O-ring is defective, you will notice water leaking at the base of the spout when you turn the handle. You may fix the problem by replacing the rubber ring rather than the entire faucet.
Compression faucets have a washer that fits around the valve seat. When you turn the handle, it compresses the washer to stop the flow of water.
Replacing the washer can stop water from leaking. However, it must be the right size to stop the flow of water effectively. Misaligned assembly parts can cause problems in the future. If in doubt, you can consult the Beyer Plumbing team in San Antonio.
A Defective Cartridge or Valve Seat
Cartridge faucets employ a cartridge to facilitate the smooth flow of water. If the components break or crack, they will allow water to leak out.
Sediment in the water can also increase the rate of deterioration on parts of the faucets assembly. Sediment can accumulate around the valve seat or seal. If water is leaking around the spout, it's most probably an issue with the valve seat.
High Water Pressure Problems
Another reason why the faucet may leak is if the pressure is too high. Most fixtures and water appliances are designed to work within a specified range. When the pressure exceeds the recommended ratings, water drips from the faucet. The spout will also sputter or spray the water around.
A water pressure relief valve can regulate the municipal supply when the pressure is too high, but not all homes have the relief valve. If the installation of your plumbing was done after 2002, your home most probably has the device.
Replacing or installing a new relief valve can minimize plumbing repairs. Sometimes, the pressure can be as high as 150 psi, far higher than the regular level of 50 psi. If you have a pressure problem in San Antonio, Beyer Plumbing is always ready to assist you.
Broken Connections or Leaky Pipes
Another reason behind the dripping is a loose connection or a leak close to the faucet. Cracks in your plumbing can force water to trail the pipe to the fixture. At times, you will notice the leaking under the sink rather than around the spout.
Plumbing faults can interfere with water pressure. If you spot a dripping faucet and low pressure, the issue could be farther in your plumbing. In such instances, we recommend scheduling an inspection of your plumbing system in San Antonio.
The Risks of a Leaky Faucet
A dripping faucet is easy to dismiss, but it can cause a lot of water wastage in your home. You could be adding up to 10% on your water bills resulting from leakages that are inexpensive to fix.
Besides water wastage, leaks also facilitate corrosion on the inside of the fixture and its connections. Corrosion can weaken pipes and leave them susceptible to cracking. Rust can also damage valves, gaskets, and other critical components of the faucet.
The damage may extend to areas around the faucet as well. That may include bathroom and kitchen surfaces and floors. Wooden materials can warp and deform, and concrete can crack when subjected to a lot of moisture. Your walls could also start peeling paint as a result of exposure to vapor and water.
What's more, leaks introduce moisture, and this moisture encourages microbial growth to spread. A timely faucet repair can minimize damage to various parts of your home.
When to Call a Plumbing Service
Some issues with a leaky faucet are easy to fix, but the leaking could also point to an underlying problem with your plumbing system. Additionally, some faucets have complicated assemblies that can worsen the problem if you misalign components.
The EPA recommends watching your water consumption closely to spot incidences of leakages. For example, if a home with four occupants uses more than 12,000 gallons of water per month, your plumbing is probably faulty.
Another way you can spot water wastage is to shut off all water fixtures and watch the water meter for two hours. If there is any change in the readings, there's probably a leaking pipe or faucet. Beyer Plumbing will troubleshoot and fix your San Antonio home's plumbing promptly.
The best way to prevent plumbing issues is to schedule maintenance at least once a year. As with any other system you use daily, a tune-up is essential to avoid a system breakdown.
Our certified plumbers have the tools to spot leaks deep within your plumbing system. They can recommend solutions that will uphold the condition of your plumbing for many seasons to come. You can cut down your utility bills and reduce the cost of repairs by sticking to a maintenance schedule.
You can trust the Beyer Plumbing team with four decades of collective experience to restore your plumbing in San Antonio. Our A+-rated team is acclaimed by Angie's List and the BBB. As a family-owned business, we treat our clients as part of our family. We always strive to deliver honest, fair, and quality solutions to our customers. Call Beyer Plumbing in San Antonio today for more information about our full range of residential and commercial plumbing services.